Vegan Roasted Butternut Pumpkin & Sage Risotto
Author: Bridee Date Posted:2 April 2019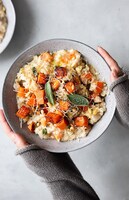 Simply put, this recipe is Autumn in a bowl the perfect antidote for the changing weather
INGREDIENTS
1 medium butternut pumpkin
6 sage leaves
2 onions
5 garlic cloves
1.2l The Stock Merchant Traditional Vegetable Stock
400g Lotus Organic Arborio Rice
1 lemon
1/2 cup Provamel Organic Single Dairy-Free Soya Cream
TOPPINGS
1/4 cup Absolute Organic Raw Organic Pine Nuts
Vegan Angel Food Parmesan Alternative
INSTRUCTIONS
Pre heat the oven to 180C
Cut both ends off the butternut squash and peel with a vegetable peeler. Place the flat side of the bigger end of the butternut on a chopping board and carefully cut down the middle. Scrape out the seeds with a teaspoon. Chop the butternut into cubes about 2cm. Place in a baking tray with some rapeseed oil, salt and pepper. Place in the oven, they will need about 20-25 minutes.
Finely chop the onion and place in a large pan with some oil on medium heat. Stir and after a few minutes add the crushed garlic.
Keep an eye to make sure the onion and garlic don't burn, when they are soft and translucent add the arborio rice and finely chopped sage. Stir and coat all the rice for 2 minutes. Meanwhile, bring your vegetable stock to a boil in a separate pot before reducing down to a simmer. Add vegetable stock to your rice mixture a cup at a time. Continue to add the vegetable stock when the rice has soaked it up, stirring frequently. Stirring it frequently is what releases the starches and makes it creamy. You may find you need a little less, or a little more stock.
After about 15-20 minutes, taste the rice. It should have a bit of bite to it, but be soft on the outside. Turn down to a low heat.
Take the butternut pumpkin out the oven, it should be starting to brown and be nice and soft. Mash 3/4 of the pumpkin with the back of a fork and add to the risotto. Add the juice of the lemon and vegan cream and stir until combined.
Toast the pine nuts in a dry pan on medium/high heat.
Serve the risotto, top with the remaining squash, pine nuts and some vegan parmesan.
NOTES
You could also try tarragon or dill if you don't have sage.
---
Leave a comment