Creamy Vegan Tomato Sauce
Author: Bridee Date Posted:26 February 2019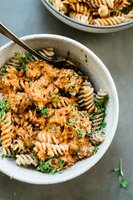 This sauce starts with a traditional rustic tomato base and is finished with a beautiful silky cashew cream to add the ultimate dose of comfort. IT. IS DELICIOUS. Once you make it, it will become a weekly staple. Use it on your favourite gluten free pasta, to top a bean and quinoa bowl or to add the final flourish to a stack of zucchini fritters. The possibilities are endless...
INGREDIENTS
Cashew Cream
1 1/2 cups Terrain Organic Raw Cashews , soaked overnight
1/2 cup filtered water
2 teaspoons Bragg Apple Cider Vinegar
1 garlic clove
Salt & freshly ground pepper
Creamy Tomato Sauce (makes about 3 cups)
1 can Global Organics Whole Peeled Tomatoes
1/4 cup minced basil
1/4 cup minced parsley
1 tablespoon minced oregano
2 teaspoons chopped thyme
1 tablespoon Loving Earth Organic Coconut Sugar
Salt & freshly ground pepper
1 small onion, diced small
3 garlic cloves, minced
1/2 cup cashew cream (recipe above)
Gluten free pasta options: Ceres Organic Sorghum Fusilli or Casalare Gluten Free Penne Pasta
METHOD
Place cashews, water, vinegar, and garlic in a high-speed, upright blender on high for a few minutes, scraping down the sides of the blender container, until creamy. Season with salt and pepper. If your cream is too thick, add more water a 1/2 tablespoon at a time until it's reached your desired consistency. You don't want the cream too thin, think: greek yogurt consistency. Scrape the cashew cream into an air-tight jar and store in the refrigerator. The cream can be made a few days in advance if need be.
To make the sauce, add the can of tomatoes to a large mixing bowl, and crush them until the tomatoes are broken (using a potato masher works really well for this). Add the chopped herbs, sugar, a few big pinches of salt, and a few grinds of ground pepper. Let it sit and marinate while you cook the other ingredients.
Heat a large lidded pot over medium heat, once hot, add the onion and stir, cook until the onion is soft and translucent, about 5 minutes. Add the garlic and stir, cook for 1 minute. Then add the tomato sauce mixture, increase the heat and bring it to rolling simmer. Give it a stir, then cover. Turn the heat down to low, and let the sauce cook for 20 minutes, until the sauce has reduced and thickened a little. Remove from heat and stir in the cashew cream (if you want it creamier, add 1/4 cup more cream).
Top your favorite pasta, a bean and quinoa mix, zucchini fitters, etc.
---
Leave a comment