Gluten Free Dark Chocolate & Hazelnut Cookies
Author: Bridee Date Posted:2 October 2018
A healthy gluten free recipe for baking biscuits that are tasty and nutritional. Follow the easy to prepare instructions and enjoy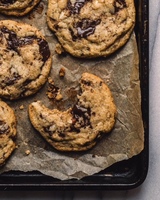 INGREDIENTS
3/4 C Finely Ground Hazelnut Meal/Flour
1 C Bobs Red Mill 1 to 1 Baking Flour
1/2 tsp Nirvana Organics Himalayan Crystal Salt
1 tsp Bobs Red Mill Gluten Free Baking Powder
1/4 tsp Bobs Red Mill Gluten Free Baking Soda
1/2 C Butter Flavored Coconut Oil, room temperature
1/2 C Sugar
1/2 C Billingtons Natural Light Muscavado Sugar
1 Large Egg + 1 Yolk
1 tsp Equagold Pacific Tahitian Variety Pure Vanilla Extract
3/4 C Toasted Hazelnuts, roughly chopped
1 1/2 C Alter Eco Dark Blackout 85% Organic Chocolate
METHOD:
Preheat the oven to 175 degrees and line 2 baking sheets with parchment paper.
In a large bowl, combine hazelnut flour, gluten-free flour, salt, baking powder and baking soda. Stir well and set aside.
In the bowl of an electric mixer, combine sugars and coconut oil. Beat on medium speed for 2-3 minutes until fluffy. Add eggs and vanilla. Beat about 1-2 minutes more until smooth. Scrape down bowl. Turn mixer to lowest setting and slowly add the flour mixture. Mix until just combined. Add in the nuts and the chocolate. Mix just 30 seconds more on low setting. Stir remainder by hand if needed.
Scoop into golf ball size balls. Place onto prepared cookie sheet about 2 inches apart. Flatten slighting with your hand if you want larger cookies (if you don't flatten they will be thicker). Bake in preheated oven for 9-10 minutes until edges are set. Remove from oven. Cool 2 minutes on cookie sheet, then remove to wire rack to cool completely.
Store leftovers in airtight container. Makes 24 cookies