Vegan Sausage Rolls
Author: Sunnybrook Date Posted:9 June 2023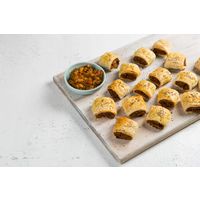 These sausage rolls are packed full of flavour and fibre and will be a hit at any party. Delicious served on their own or with tomato sauce. Enjoy!
Ingredients

1 tablespoon olive oil
12 (200g) button mushrooms, finely diced
1/2 stalk of celery, finely diced
435g can refried beans
1/2 teaspoon fennel seeds
1 tablespoon chia seeds
1/4 teaspoon garam masala
1/2 teaspoon salt
1/2 cup bread crumbs
2 sheets of vegan puff pastry
Olive oil, to brush
1 teaspoon white chia seeds
Method

1. Heat oil in a large frying pan over a medium heat. Fry diced mushrooms for 2 minutes, stirring consistently.
2. Add celery, fry for another 2 minutes.
3. Transfer to a large bowl, add refried beans, fennel seeds, chia seeds, garam masala, salt and breadcrumbs. Stir until well combined.
4. Cut two pastry sheets in half. Spoon 1/4 of the mixture lengthwise down each piece of pastry. Roll up tightly.
5. Cut each roll into 6 pieces, place on lined oven tray. Brush with olive oil, sprinkle with chia seeds.
6. Bake at 200 degrees c for 30-40 minutes or until golden.
Thank you to The Chia Company for this delicious recipe.
---
Leave a comment