Orgran Vegan Lemon Meringue Cheesecake Bites
Author: Sunnybrook Date Posted:9 June 2023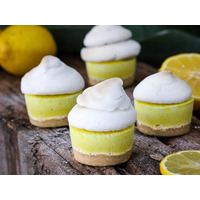 INGREDIENTS
Serves: 15
BASE
FILLING
MERINGUE TOPS
METHOD
BASE
Blitz almonds in a blender for approx. 1 minute until they become a fine crumb.

Add drained chopped fruit and blend again.

Press into the base of molds using your fingers until firmly packed. Put in the freeze while you make the filling.
FILLING
Blend all ingredients in a blender until smooth.

Add more sweetener or lemon to suit taste preference. Freeze overnight until firm.
MERINGUE TOPS
Preheat oven to 100°C. Mix the ORGRAN No Egg™ Egg Replacer and pectin together in a mixing bowl.

Add the water and beat on high speed for approx. 10 minutes. After 10 minutes, keep beating and add the vanilla and icing sugar slowly. Continue to mix for a further 10 minutes.

Please mix in a piping bag and let sit for approx 15 minutes to thicken. Place desired shapes into a baking tray lined with non stick paper. Bake for 5 minutes until firm on the outside and soft on the inside.

Allow to cool and place on top of lemon cheesecakes and serve.
---
Leave a comment