Spinach Dahl (Vegan & GF)
Author: Bridee Date Posted:23 April 2019
INGREDIENTS
2 cups of yellow split peas, rinsed
2 teaspoons ground turmeric or finely grated fresh turmeric
2 tablespoons Melrose Organic Coconut Oil and Ghee
1 teaspoon Gourmet Organic Herbs Yellow Mustard Seeds
1 teaspoon Gourmet Organic Herbs Organic Chilli Flakes
2 teaspoons whole cumin seeds
3 sprigs fresh curry leaves
2 teaspoons finely chopped garlic
1 cup Absolute Organic Coconut Milk
200g spinach leaves
Salt flakes, to season
METHOD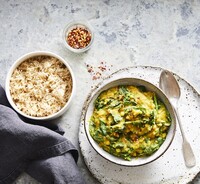 Take a large saucepan, add in the spilt peas, turmeric and 1.5 – 2 litres of water. Bring the water to the boil then reduce it to a simmer and allow the peas to become tender and for the water to almost evaporate, this might take about 30 minutes.
In a frying pan, add the coconut oil and ghee over medium heat, when the oil has melted add in mustard seeds, chilli flakes, cumin seeds, curry leaves and garlic, allow to cook for a few minutes until you smell the fragrance of the spices and the mustard seeds start popping.
Remove from heat, then pour all the mixture into the dahl, stir well, then add coconut milk, continue stirring and simmering for a further 5 minutes ensuring the dahl doesn't get stuck to the bottom of the pan. Finally, add in the spinach leaves and mix well. Season with salt flakes to taste. If you prefer a runnier dahl, add more coconut milk. Keep warm and serve with cooked brown rice.
Recipe via Dani Venn (Melrose Health Resident Wholefoods Cook)
---
Leave a comment