Nutrient Dense Vegan Super Salad
Author: Laura Date Posted:10 January 2023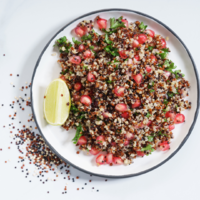 1 cup of cooked Tri Colour Quinoa
1 small Red Onion, finely chopped
1 cup of cooked lentils (canned can be used)
1/3 cup of currants
1/3 cup of cranberries (no added sugar if possible)
¾ cup mixed sunflower and pumpkin seeds
¾ cup of lightly toasted slivered Almonds
3 Tablespoons of baby capers
Seeds from 1 pomegranate
½ cup of fresh coriander, chopped
½ cup of fresh parsley, chopped
Dressing:
Juice from 2-3 Lemons
1 Tablespoon of Tahini (unhulled or hulled)
A pinch of salt
2 Tablespoons of Extra Virgin Olive Oil
Method:
Bring 2 cups of water and quinoa to the boil and then simmer for 10-15 minutes or until water is fully absorbed. Turn heat off and leave to cool.
Lightly toast slivered almonds in a dry pan until it reaches a light golden colour. Leave to cool.
Place all other ingredients in a bowl and add quinoa, toasted almonds and mix all together.
Drizzle the dressing on individual serves.
---
Leave a comment