Gluten Free White Christmas Recipe
Date Posted:13 October 2023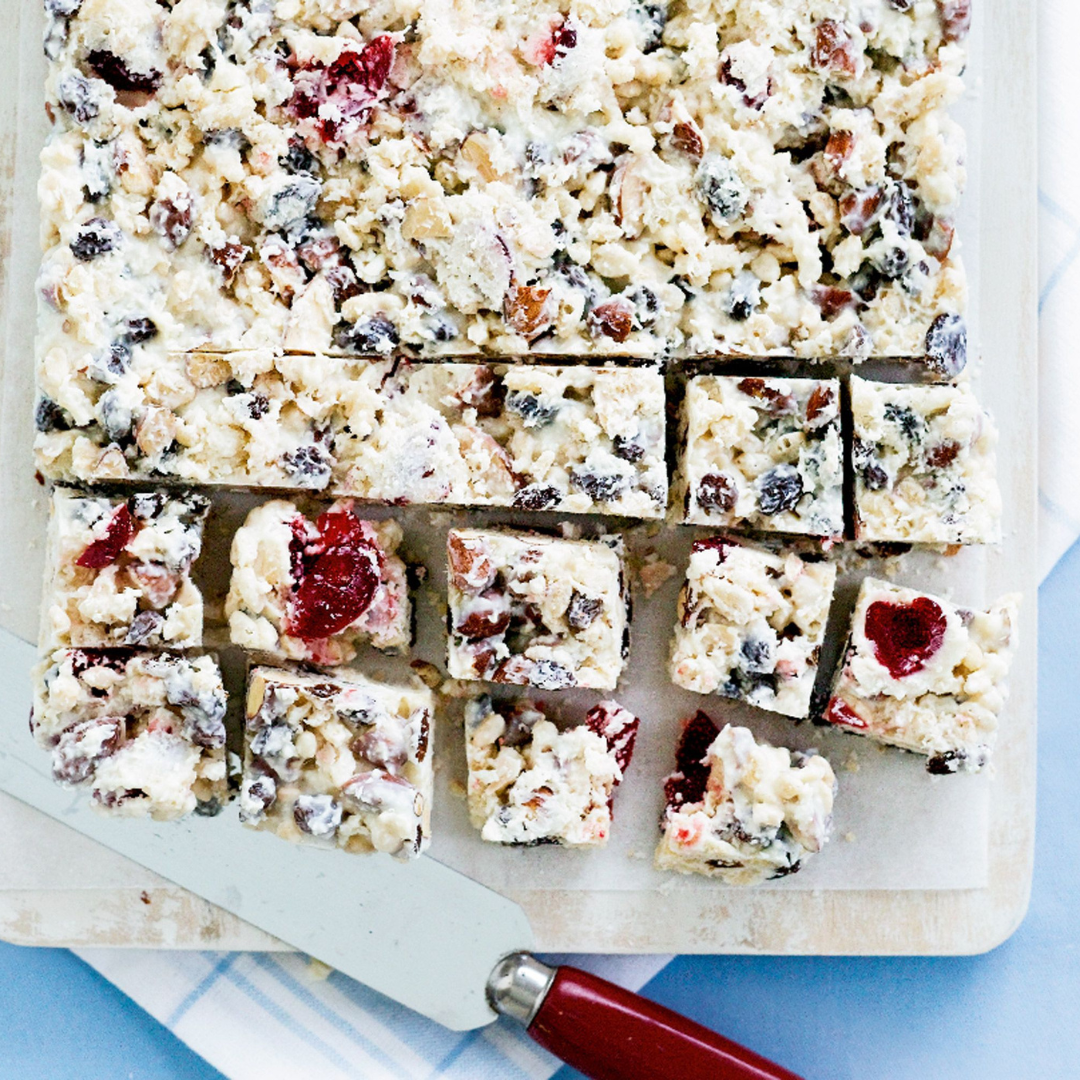 Gluten-Free White Christmas
Ingredients:
- 200g (about 7 oz) gluten-free shortbread or rice cookies, crushed into small pieces
- 150g (about 5 oz) desiccated coconut
- 100g (about 3.5 oz) gluten-free rice bubbles or puffed rice cereal
- 100g (about 3.5 oz) mixed dried fruits (e.g., cranberries, raisins, apricots), chopped
- 100g (about 3.5 oz) slivered almonds or other nuts of your choice
- 400g (14 oz) white chocolate, roughly chopped
- 395g (14 oz) can sweetened condensed milk (check that it's gluten-free)
Instructions:
1. Line a square or rectangular baking dish (about 8x8 inches or similar) with parchment paper, leaving some overhang on the sides for easy removal.
2. In a large mixing bowl, combine the crushed gluten-free shortbread or rice cookies, desiccated coconut, gluten-free rice bubbles or puffed rice cereal, mixed dried fruits, and slivered almonds. Mix well to combine.
3. In a separate microwave-safe bowl or using a double boiler, melt the white chocolate in 30-second intervals, stirring in between, until smooth.
4. Pour the melted white chocolate over the dry ingredients and mix until everything is well coated with the chocolate.
5. Pour in the sweetened condensed milk and stir until the mixture is evenly combined and sticky.
6. Transfer the mixture to the lined baking dish and use a spatula or the back of a spoon to press it down firmly and evenly.
7. Place the dish in the refrigerator and let it set for at least 2-3 hours, or until the White Christmas is firm.
8. Once set, lift the White Christmas out of the dish using the overhanging parchment paper, and place it on a cutting board. Cut it into squares or bars.
9. Store the gluten-free White Christmas in an airtight container in the refrigerator. It's ready to serve and enjoy!
This gluten-free White Christmas is a delightful treat, perfect for the holiday season or any time you're in the mood for a sweet and crunchy dessert. Feel free to customize it with your favorite gluten-free ingredients and enjoy!
---
Leave a comment