Healthy Gluten Free Banana Bread
Author: Bridee Date Posted:27 January 2023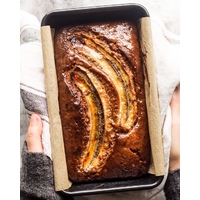 DRY INGREDIENTS
WET INGREDIENTS
EXTRAS
METHOD
Warm up the oven to 175° C and line a 900 g / 2 lb cake tin with baking paper. Move the oven rack a notch down from the middle position.
Combine well mashed up bananas with oil, almond milk, lemon juice and sugar in a large bowl. Mix very well.
In a smaller bowl, combine all the dry ingredients.
Add dry ingredients to the wet ones in three batches, mixing well each time. Mix until there is no dry flour left.
Transfer the cake batter into the prepared baking tin. It should be fairly thick. Slice a banana in half lengthwise and place on top of the cake – do not press it down as the cake will raise all around it.
Bake for about 50-55 minutes, or until a toothpick comes out fairly clean (this cake should be moist). Remove from the oven and brush with a little maple syrup while the cake is still hot.
Let the cake cool down completely before removing it from the tin and slicing. Use a serrated knife to slice if you have one as produces neater looking slices.
NOTE
*If your bananas are very ripe and you like your cakes to be subtly sweet (or you are trying to use less sugar), 100 g / ½ cup of sugar is enough, especially if you intend to glaze the bread